A single tooth implant is a permanent treatment to replace a missing tooth.
What is a dental implant?
A dental implant is a small titanium rod which is permanently fixed into your jawbone. When the implant fuses with the bone, it becomes a strong and long-lasting support to which a single crown or denture can be attached.
At Smile in London, we recommend replacing missing teeth as soon as possible after losing them after breakage or decay. There are a number of advantages for optimal oral health as well as enhancing your appearance:
Reduce stress on adjacent teeth
Prevent adjacent teeth tilting towards the gap
Improve eating comfort
Enhance your smile
What is a dental implant treatment?
Your dentist will establish if a dental implant is the most appropriate treatment for your requirements.
The dental team will begin by taking X-rays of your mouth to assess the integrity of your jawbone. The success of a dental implant relies on the health of your jawbone.
At the start of the treatment, your dentist will administer a local anaesthetic to numb the area around the missing tooth. The titanium rod is then securely fixed into the jawbone. At Smile in London, we use Straumann® dental implants.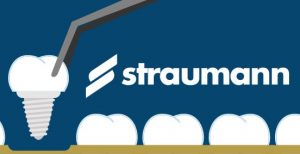 After the implant treatment, some patients experience soreness, swelling or sensitivity for a few days.
In the months following the procedure, the implant will normally have begun to fuse with the jawbone for maximum strength and stability. A dental crown or denture can then be attached to the insert.
With optimal care, a dental implant is a long-lasting solution for replacing missing teeth.
For more information regarding this treatment
back to treatments