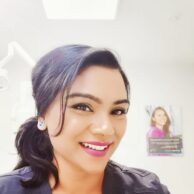 Dr Vandna Chamund
Dental Associate Leyton
BDS (Hons), MJDF RCS Eng, BSc  (Hons), QDN
GDC No. 129698
Vandna (affectionately known as Vee to her patients)  has practiced dentistry for 11 years and has gathered a wealth of experience and knowledge. She has a holistic approach to dentistry and exudes passion about both the practice of dentistry and the industry itself.
The vast experiences of working with patients with dental anxiety as well as the ability to maintain
professionalism and empathise with patients provide her with a great foundation to deliver patient satisfaction.
Vee puts a focus on consistently improving and developing both her knowledge and skills
such that she can offer her patients the highest quality of dental care. She continues her passion for minimally invasive cosmetic dentistry and general dentistry providing comprehensive dental care for the whole family by attending lectures and courses.
Vee graduated with a Biological science BSc Hons from Westminster University in 2004, where she participated in a research project on Malaria at the London School of Hygiene and Tropical Medicine. She then obtained a dental nursing qualification from Eastman Dental hospital and NVQ III -achieving an award for her dental nursing in 2005.
Vee qualified from St Bart's & The Royal London Hospital, Queen Mary's School of Medicine and Dentistry in 2010 with honors. Having completed her vocational training with the London Deanery as part of the Eastman scheme at a general dental practice in Surrey, she took part in oral health promotion for children in local schools. In 2011 she worked as a senior house officer in Paediatric Dentistry at Bart's and the London NHS trust. She has knowledge and experience ofworking with adults and young children who suffer with learning difficulties, syndromes and dental anxieties.
In 2012 she gained the diploma of Membership of the Joint Dental Faculties at The Royal College of Surgeons of England (MJDF RCS Eng) ensuring her knowledge and skills have advanced with
structures and processes required to provide quality-assured dental healthcare for the community.
Vee is registered on a witness training programme (2014) and expert witness programme
(2021) to assess dental nurses in training to gain their dental nursing qualification. Building a good team is vital in practice to provide the best care.
Vee has also gained a certificate in Cosmetic Dentistry & Aesthetic Restorative Dentistry in 2015 (Chris Orr course) where she has developed her skills in: current concepts and techniques in dentistry; current materials and techniques for contemporary restorations, with an emphasis on minimising invasiveness in the provision of these restorations whilst maximising patient involvement and minimising risk in planning and delivering treatment.
Having completed a six month smile braces course inspired her to complete a course more recently in Invisalign. She is now an Invisalign Go provider and is passionate about using the Enlighten whitening system. She has learnt the best aspects of braces and aligners and the materials to give adults a common-sense, cosmetic solution that fits all lifestyles.
Back to Team