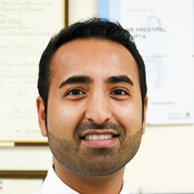 Dr Gurwinder Singh Dhesi
Specialist Prosthodontist and Implantologist
BDS(Bristol) MJDF RCS.Eng DClinDent Prosthodontics (London) MProst RCS Ed
GDC No. 229692
Gurwinder is the Specialist Prosthodontist and Implantologist at our practice.  This is a specialty dedicated to the replacement and restoration of teeth using all possible treatment modalities such as veneers, onlays, crowns, bridges, dentures and dental implants. He works with dental implants on a daily basis and his preferred system is Straumann, which is a premium worldwide implant brand. He is a member of the International Team of Implantlogists (ITI).
Gurwinder graduated in 2012 from the University of Bristol. He then went onto gain Membership of the Joint Dental Faculties (MJDF) with the Royal College of Surgeons England in 2013. Following this, he worked at the Leeds General Infirmary in Oral and Maxillofacial Surgery, gaining experience in many surgical aspects of dentistry. After this, he spent time working in multiple practices across the UK for 3 years prior to starting his specialist training in 2017 in London. He has been awarded a Doctorate of Clinical Dentistry (DClinDent) in Prosthodontics from Queen Mary University of London, a 3 year full – time course. Following this programme, he has proudly completed his specialist training in Prosthodontics and passed the prestigious Royal College of Surgeons Edinburgh membership examinations.
Specialist Treatments provided:
Dental implants – from straightforward to full – arch cases
Full mouth rehabilitations
Tooth surface loss management
Crown and bridgework including replacement of previous restorations
Smile design including highly aesthetic veneers and composite restorations
Crown lengthening surgery
Difficult denture cases both conventional and implant – retained
Surgical extractions including impacted teeth
Gurwinder routinely works closely with other specialists including Orthodontists, Periodontists and Endodontists to comprehensively manage every patients dental needs and requirements.
In addition, we will ensure every patient is referred back to your practice for continuing care following specialist treatment, with a detailed outline of their long term maintenance requirements.
Qualifications
Bachelor of Dental Surgery (BDS) – University of Bristol 2012
Member of Joint Dental Faculties (MJDF) Royal College of Surgeons 2013
Doctor of Clinical Dentistry (DClinDent) Prosthodontics – Queen Mary University of London 2020
Membership in Prosthodontics Royal College of Surgeons Edinburgh (MPros RCS Ed) 2020 – Speciality examination
Additional courses attended
Advanced Implantology Certificate
SAAD (Sedation)
Dental Photography
Invisalign Go
6 month smiles
Favourite part of the job
My biggest interest is in rehabilitation of patients who require extensive multidisciplinary dentistry. I take pride in utilizing my specialist skills set to carry out treatments to the highest standard, in order to achieve long – term predictable outcomes. I have an eye for detail and will aim to address the cosmetic concerns relating to a patient's smile as well as ensuring the treatment is in harmony with the functional requirements of their dentition. I particularly enjoy treating anxious patients and slowly increasing their confidence in visiting the dentist by putting them at ease with my calm patient manner and communication skills.
My Speciality
I specialise in prosthodontics, which is a speciality dedicated to expert diagnoses and treatment planning. Following detailed assessments and discussions, I will provide a comprehensive treatment plan, in keeping with functional and aesthetic demands of the patient.
It's a speciality that involves providing all kinds of prosthesis, from simple composite bonding to veneers, crowns, bridges, dentures and implants. It requires 3 additional years of training for a dentist and makes you an expert in dealing with complex cases to include full mouth rehabilitations that often involve multiple areas of dentistry, to give you a smile that will predictably last the test of time.
I have worked in multiple dental hospitals throughout the country and gained experience in providing complex extractions and dealing with anxious patients. I have a very calm patient manner and will do my best to make you feel at ease and slowly increase your confidence in visiting the dentist and provide you with teeth you can smile about.
Why you should come to see me
Every dentist is different and equally every specialist is different in their own way.
I worked as a dentist for 5 years prior to commencing my specialist training, including posts in hospital. This makes me a very well rounded clinician who can comprehensively deal with all areas of routine dentistry, as well as having specialist skills to firstly diagnose and treatment plan your case and then expertly execute it to give a both a functional as well as aesthetic smile.
For me predictability is very important, and I want the restorations to last the test of time, whether it's a simple crown or a full mouth rehabilitation on implants.
I have very good attention to detail which has been accentuated through my specialist training. I use photography as a great tool to ensure no detail is spared throughout your treatment journey. As well as this, I have a lot of experience in providing very complex dentistry and can show you cases where I have done something similar, so you can appreciate what will be possible for your smile.
Lastly, I see a lot of patients who have had treatment in the past which they are not happy with and we will work together to make corrections and get your smile to the standard we are really pleased with.
Back to Team